SC secretary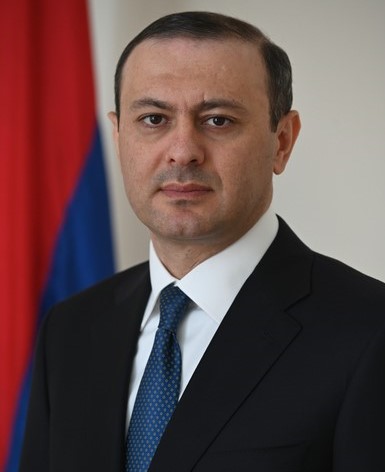 Armen Grigoryan
Place of Birth։
December 25, 1983, Martuni, Artsakh.

Education and Scientific activities։

2001-2007 Yerevan State University, Faculty of International Relations.
2009-2011 American University of Armenia, Department of Political Science and International Affairs.
2011-2013 Author of a scientific research: "Political elite in post-Soviet Armenia: characteristics and ways of formation".


Work Experience։

2015-2018 Visiting lecturer, Armenian-Russian (Slavonic) University, department of World Politics and International Relations.
2015-2018 Project coordinator of electoral programs, Transparency International Anti-Corruption Center.
2018-2021 Secretary of the Security Council of Armenia.
July 14, 2021 – August 19, 2021 – First Deputy Foreign Minister of the Republic of Armenia
August 21, 2021-present – Secretary of Security Council of the Republic of Armenia


Other Information:

2011-2018 Has published analytical articles on Civilnet, Mediamax and EVN report news sites on democratization of Armenia, civil society development, economic-political, as well as geopolitical topics.
2003–2005 Service in the Artsakh Defence Army.
Member of the political party "Civil Contract".
Married with a daughter.
×